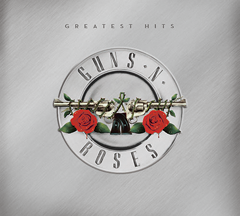 Release:
2004年3月17日 [JP]
2004年3月23日 [US]
Label:
Geffen Records
Format:
CD [SHM-CD], LP
---
ガンズ・アンド・ローゼズ初のベスト・アルバム。本作のリリースまでは『Live ERA '87-'93』がその性質上ベスト・アルバムとしても機能していた。曲は1987年から1994年までのシングル・リリース曲から選ばれており、所謂新生GN'Rの音源は含まれていない。メンバーがリリースに反対していた背景や、カヴァー曲が5曲も含まれている為に、あまり快く思われていない面もある。
1枚でバンドの1987年から1994年までの流れが追えるコンピレーション・アルバムとしての魅力があるので、今までGN'Rを知らなかった人にとって、入門には丁度いいベスト・アルバムになるかもしれない。
---
2020年9月25日
Greatest Hits - Vinyl
発売
---
Ain't It Fun の歌詞、"Ain't it fun when you tell her she's just a cunt"の部分の"cunt"が消されています。
---
各曲の収録されているオリジナル・スタジオ・アルバム
■
Appetite For Destruction
01. Welcome To The Jungle / 02. Sweet Child O' Mine / 04. Paradise City
■
GN'R Lies
03. Patience
■
Use Your Illusion I
08. Don't Cry (original version) / 09. November Rain / 10. Live And Let Die
■
Use Your Illusion II
05. Knockin' On Heaven's Door / 06. Civil War / 07. You Could Be Mine / 11. Yesterdays
■
The Spaghetti Incident?
12. Ain't It Fun / 13. Since I Don't Have You
■ 収録アルバム無し (
サントラ盤
のみ)
14. Sympathy For The Devil
---
W. Axl Rose (vocals, piano, guitars)
Izzy Stradlin (acoustic, electric guitars)
Slash (acoustic & electric guitars)
Duff McKagan (bass, background vocals)
Dizzy Reed (piano, keyboards)
Steven Adler (drums)
Matt Sorum (drums, percussion, background vocals)
Paul "huge" Tobias (guitars)
---
Additional personnel: Shannon Hoon, Stuart Bailey, Reba shaw, The Waters, Mike Monroe (vocals & background vocals); Matthew McKagan, Rachel West, Robert Clark, Jon Trautwein (horns); Mike Staggs (guitars);
---
Recorded at Rumbo Studios, Canoga Park, California; Take One Studio, Burbank, California; Can Am Studio, Tarzana, California.
A & M Studios, Record Plant, Studio 56 and Image Recording, Hollywood, California; Conway Studios, Los Angeles, California; Metalworks Recording Studios, Toronto, Ontario.
---
Produced by Mike Clink and Guns N' Roses
Engineered by Mike Clink
Additional engineering: Jim Mitchell
Mixed by Steve Thompson and Michael Barbiero, Bill Price in (ou)R Sound
---
Compilation Produced by Bill Levenson
Mastered by Gavin Lurssen at The Mastering Lab, Los Angeles, CA
Art Direction: Vartan
Design: meat and potatoes, inc.
Production Manager: Ute Friesleben
Photography: Back cover - Ross Halfin; inside panel & CD tray - Gene Kirkland
Photo Research: Amy Neiman & Ryan Null
Copyright: Wendy Bolger & Stacy Darrow
Tape Research: Randy Aronson, David Foster & Brendan Morris
Project Assistance: Lee Lodyga
A&R Assistance: Dana Smart