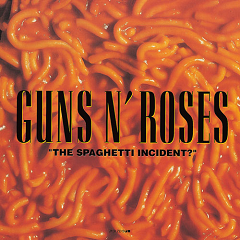 Release:
1993年11月23日
Label:
Geffen Records
Format:
LP, Cassette Tape, CD [SHM-CD]
---
パンク中心のカバーアルバム。イジーの後任として、ギルビー・クラークが参加している。当初収録が予定されていたThe Stoogesの"Down On The Street"、Hanoi Rocksの"Beer And A Cigarette"は未収録。シークレットトラックに凶悪犯チャールズ・マンソンの曲が使われており、物議を醸す結果となった。アルバムはパンク中心ということでダフが活躍している。#9などは90年代のライブでもおなじみ、ダフがリードボーカルをとる。#7にはSoundgardenの"Big Dumb Sex"のリフが導入されている。#8はアクセルの好きだ(アクセルのヴァーカル・スタイルに影響大)というナザレスの曲。他にもセックスピストルズの#10といったマニアックな曲も聞ける。
---
01. The Skyliners (ザ・スカイライナーズ)
02. The Damned (ザ・ダムド)
03. UK Subs (ユーケー・サブス)
04. The New York Dolls (ザ・ニューヨーク・ドールズ)
05. Iggy Pop And The Stooges (イギー・ポップ & ザ・ストゥージズ)
06. The Dead Boys (ザ・デッド・ボーイズ)
07. T. Rex (ティー・レックス) / Soundgarden (サウンドガーデン)
08. Nazareth (ナザレス)
09. The Misfits (ザ・ミスフィッツ)
10. The Sex Pistols (ザ・セックス・ピストルズ)
11. Johnny Thunders (ジョニー・ザンダース)
12. Fear (フィアー)
##. Charles Manson (チャールズ・マンソン)
---
W. Axl Rose (vocals, keyboards)
Duff McKagan (guitar, bass, drums, background vocals)
Slash (guitar, background vocals)
Gilby Clarke (guitar)
Dizzy Reed (keyboards, background vocals)
Matt Sorum (drums, percussion, background vocals)
---
Additional personnel:
Michael Monroe (vocals); Mike Staggs, Richard Duguay, Carlos Booy (guitar); Mike Fasano (percussion); Eddie Huletz, Rikki Rachtman, S.C. Bailey, Blake Stanton, Eric Mills (background vocals).
---
Producers: Mike Clink, Guns N' Roses, Duff McKagan, Jim Mitchell.
Mixed by Bill Price in (ou)R Sound
Assisted by Ed Goodreau, John Aguto, Craig Brock, Allen Abrahamson, Shawn Berman
Mixed at Skip Saylor Recording
---
The cover photo is taken by Dennis Keeley, Art Direction / the design is done by Kevin Reagan, Slash and Axl.
---
---