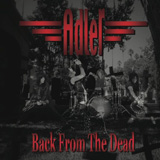 01. Back From The Dead
02. Own Worst Enemy
03. Another Version Of The Truth
04. The One That You Hated
05. Good To Be Bad (featuring John 5)
06. Just Don't Ask (featuring Slash)
07. Blown Away
08. Waterfall
09. Habit
10. Your Diamonds
11. Dead Wrong
Adler
2012.11.26 [US]
Steven Adler (drums)
Jacob Bunton (vocals)
Lonnie Paul (guitar)
Johnny Martin (bass)
Jacob Bunton: lead vocals, guitar, mandolin and piano. Lonny Paul; guitar and vocals. Steven Adler: drums, cowbell, shakers, tambourine, crowbar, shovel and screams. Johnny Martin: bass and vocals.
Additional musicians: Jeff Pilson: bass on all tracks, 6 string guitar, keys and vocals. Slash: Lead guitar on "Just Don't Ask". John 5: Lead guitar on "Good To Be Bad". Michael Lord: Piano on "Waterfall".
Recorded at Pilsongs Studio, Santa Clarita, CA. Produced by Jeff Pilson and Adler. Engineered by Jeff Pilson. Mixed by Jay Ruston at TRS West, Sherman Oaks, CA. Additional recording: Jason Elgin at Synchromesh Studios, Birmingham, AL. Mastered by: Paul Logus at Taloowa Mastering NY. Art direction and concept: Lonny Paul. Layout and design: Ryan Russell. Publicist: Doug Weber for New Ocean Media.